Hex Dumbbells: Versatile Training Tools for Strength and Fitness
In the realm of strength training and muscle building, selecting the right equipment plays a pivotal role. Among the array of options available, hex dumbbells have garnered widespread recognition for their unparalleled versatility, functional design, and remarkable effectiveness. Whether you frequent a local gym or prefer the convenience of exercising at home, hex dumbbells have swiftly become a cornerstone of any well-rounded fitness arsenal. 
Today we will embark on a journey to uncover the multitude of benefits and diverse applications that hex dumbbells offer, firmly establishing their indispensability in your quest for strength and physical prowess. Prepare to discover the secrets behind the unwavering popularity and transformative potential of these hexagonal wonders, as we explore their unique contributions to your strength training endeavors.
Versatile Exercises You Can Perform Using Hex Dumbbells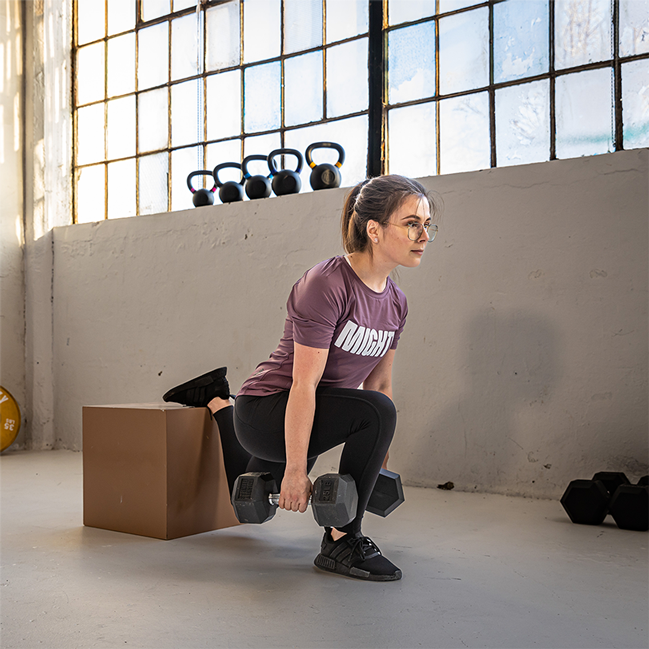 These remarkable fitness tools offer a vast array of exercise options, enabling you to target various muscle groups and unlock a comprehensive full-body workout. Add Hex dumbbells into your training regimen, and you can take your fitness journey to new heights. 
Get ready to explore a multitude of exercises that will challenge your muscles and help you reach your fitness goals.
Goblet Squats
Goblet squats are a fantastic lower-body exercise that engages multiple muscle groups, including the quadriceps, hamstrings, glutes, and core. Grab a hex dumbbell and hold it vertically with both hands at chest level. 
Stand with your feet shoulder-width apart and lower your body into a squat, keeping your chest lifted and your knees aligned with your toes. Drive through your heels to return to the starting position. Goblet squats with hex dumbbells not only build lower body strength but also improve stability and mobility.
Chest Press:
The dumbbell chest press is a classic exercise that primarily targets the chest muscles, along with the shoulders and triceps. Lie on a flat bench with a dumbbell in each hand, positioned at chest level. 
Push the dumbbells upward, extending your arms while maintaining control and stability. Slowly lower the dumbbells back to the starting position. The chest press allows for a greater range of motion compared to traditional barbell bench presses, helping to improve muscular balance and enhance overall upper-body strength.
Shoulder Press
The shoulder press is a fundamental exercise for targeting the deltoid muscles of the shoulders, as well as the triceps. Start by holding a dumbbell in each hand at shoulder level, palms facing forward. 
Extend your arms upward, fully extending your elbows while keeping your core engaged and maintaining stability. Slowly lower the dumbbells back to the starting position. Dumbbell shoulder presses help to develop strong, well-rounded shoulders and enhance upper body strength.
Renegade Rows
Renegade rows are a challenging exercise that targets the back, shoulders, and core. Begin in a push-up position with your hands gripping a pair of them directly beneath your shoulders. 
Keeping your core engaged and your body stable, lift one dumbbell off the ground and row it towards your hip, squeezing your shoulder blade at the top of the movement. Lower the dumbbell back to the ground and repeat on the opposite side. Dumbbell renegade rows enhance upper body strength and stability while working your core muscles.
Walking Lunges
It is a dynamic exercise that engages the lower body, including the quadriceps, hamstrings, glutes, and calves. Holding a pair, take a step forward with your right leg, bending both knees to create a lunge position. 
Push off your right foot and bring your left leg forward, repeating the lunge on the other side. Continue walking forward, alternating legs. Walking lunges with dumbbells not only strengthen your lower body muscles but also improve balance, coordination, and stability.
Benefits of Including HEX Dumbbells
Hex dumbbells are more than just a standard piece of fitness equipment - they offer numerous benefits that can greatly enhance your strength training and fitness routine. Using them in your daily workouts can provide a range of advantages, allowing you to maximize your results and achieve your fitness goals. 
The advantages mentioned below will explain further the unparalleled benefits of this equipment. 
Adjustable Intensity 
One of the key benefits of hex dumbbells is their adjustable weight. They come in a variety of sizes, ranging from light to heavy, allowing you to customize the intensity of your workout. Whether you're a beginner looking to start with lighter weights or an experienced lifter aiming to challenge yourself with heavier loads, they offer a wide range of options to meet your fitness goals.
With hex dumbbells, you can easily increase or decrease the weight by selecting different pairs or adjusting the weight plates on adjustable dumbbells. This versatility is particularly useful when performing exercises that require progressive overloads, such as bicep curls, shoulder presses, or weighted lunges. By gradually increasing the weight, you can continually challenge your muscles, promote strength gains, and avoid plateaus in your training.
Improved Grip and Safety 
Hex dumbbells feature a unique hexagonal shape, which provides a distinct advantage over traditional round dumbbells. The flat edges of the hex design prevent the dumbbells from rolling away when placed on the ground, ensuring safety during exercises and minimizing the risk of injury.
Additionally, the ergonomic handle design offers a comfortable and secure grip. The textured surface and the wider grip area allow for better control, reducing the chances of accidental slips or dropping the weights. This enhanced grip not only promotes proper form and technique but also allows you to focus on the targeted muscle groups without worrying about the stability of the dumbbells.
Space-Efficient and Cost-Effective 
Hex dumbbells are a practical choice for both home gyms and commercial fitness facilities. Their compact size and hexagonal shape make them easy to store and require less space compared to bulkier gym equipment. This space efficiency is particularly beneficial for individuals with limited workout areas.
Furthermore, investing in a set of hex dumbbells can be cost-effective in the long run. Unlike complex machines or multiple sets of individual weights, a set of dumbbells can offer a wide range of exercises and accommodate various fitness levels. This versatility eliminates the need for additional equipment, saving you money while providing a comprehensive strength training 
solution.
Conclusion
Hex dumbbells are versatile and effective training tools that offer numerous benefits for individuals of all fitness levels. From their versatility in performing various exercises to their adjustable weight options, hex dumbbells provide the means to challenge your muscles, enhance strength, and improve overall fitness. Their ergonomic design ensures a secure grip and increased safety during workouts, while their compact size makes them ideal for home gyms with limited space.
---